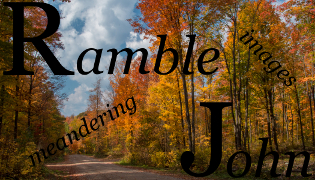 Where is Ramble John 6/05/2019
F I N A L L Y Lori has a brand new left knee and it is broken in enough that we can now go go go. The two and a half months in Columbus also let me F I N A L L Y get all of our 2010 travels added to the website which included almost twice as many photographs as the prior years. Now we are planning to spend a month in South Bend, Indiana, probably spend another month in Peoria, Illinois and then head back to St Louis to pick up a new CPAP machine which requires I come back a month later to prove I am really using it regularily so we will probably spend a couple weeks in Jefferson City. We do not have any firm plans for spending the time between then and getting back to Columbus in mid October to again see doctors, visit friends, and put up the annual Halloween display. Hopefully by settling for a month in a couple of places I can get a good start on our story for 2011.
Recent changes in the site
Again I have finally completed loading all of our travels in 2010 and the site now includes some 200 pages and over 2800 photographs for you to enjoy. All the pages that have new data from 2010 should be listed under the 2010 Pages tab in the menu bar. As a quick check look at the bottom of the 2010 Pages tab and if there are not 18 states including my most recently added Arkansas please read on because your browser is holding some old files that need to be cleared.
Thanks again to Thinkful.com I got directed into learning enough JavaScript, mostly from NetNinja on U-tube, to be dangerous. Now I can add pages and only add a few lines to my script file rather than having to change the menus on all 200 pages which was a major pain. You now need to have JavaScript enabled to jump around the site but that is required for most modern websites. Actually the pages load a little more quickly since most browsers load the JavaScript once and hold it to fill in the menus on each page. Of course I did find our friend Bill knows we want to load my JavaScript once and never ever do any updates so there is no need to ever refresh the script. If things look a little weird and some 2010 pages seem to be missing from the menu try clearing the browsing history and it should clear up. As before the site allows you to jump from any page to any page and possibly get totally lost in the process so I also created a little feature that links outside my site are shown in the traditional blue, links within my site are shown green, and sites or pages you have already visited are shown in red. That part is also stored in your browser history and gets wiped out if you need to do a refresh.
This site is planed as a work in progress. After retiring in 2006, we started sending reports back to the wonderful lady that had always watched the house while we traveled. Unfortunately Ruth Lambert is no longer with us so the major incentive for the reports is also gone and sending color copies to all our friends and relatives does start to get rather expensive hence this more convenient website presentation. As in our rambling, the reporting tended to be rather erratic and although it only got into 2010 it was reaching 300 pages and filling two 2 inch notebooks. With the old stuff converted that puts me now only nine years behind but year five of our travels is now complete and I can start working on 2011.
About Us
We retired in mid 2006 and decided to wander the USA to actually see what it really looks like. In some 40 years of actually working for a living John has had extensive travel but rare opportunities to see an area. Usually it's dark going into the plant and dark coming out so most of the scenery is the inside of a plant, motel room, or restaurant. Actually in the last six months before retirement John put in two 34 hour days; ya walk into the plant and walk out 34 hours later. So we sold the house and the majority of the "stuff" and are now OLD (medicare recipients), UNEMPLOYED (Social Security recipients), HOMELESS (not destitute), and enjoying the nomad lifestyle. NO! we don't have an RV; we sold the house, we're not driving it. We have two tents to camp when we want, but mostly motel camp. Staying a week or a month tends to be economical most places and we are definitely budget travelers. Look for us where its warm but not real hot with a reasonable cost of living. Actually we are starting to run out of those places and running into some of the more expensive places.