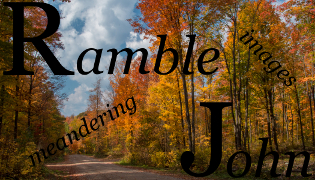 Copyright by Ramble John
Unless otherwise stated or perfectly obvious, all of the images and text on this web site were created by or under the direction of John H. Markiel with a permanent legal address of 3903 237th Place SW, Brier, WA 98036 and all rights are reserved.
Best and fastest contact is ramble2john@gmail.com which is monitored every day.
That said not all of the images are available for sale or commercial use. I do not have model releases for most of the people shown on the site and am using them only in an editorial context. Other images may have been taken at a zoo, garden, or other facility that has restrictive photography policies and again they are being used only in an editorial context. In other cases the images may not have adequate resolution or clarity for use any bigger than included on the site, and finally there are some image I am just not going to sell for my own personal reasons.
Eventually I expect to have some of my images available for sale on this site. Until then if you have a specific interest in an image, my style of images, or specific assignment that would fit into my schedule please feel free to contact me at the above email and we'll see what is possible.
---